Well, I took the Joy photograph and it's been posted. However, that's the only published activity so far. Fear not!
I set up my Light shot and took some photos, but I am not pleased. I'm going to try again when I've tweaked the design. However, I can blog a bit about the setup and what I plan to change
Glowing stars. I bought several packages of them a couple years ago, when Mauve and I wound up with a quad to ourselves. We covered all of the walls with stars. It was the single greatest decorating idea I'd ever come up with. Despite the fact that they're a pain to get down, they look amazing at night and the light that they give off isn't enough to keep me awake at night. We put them up again junior year. We always name constellations. Mauve came up with Satan's Love Rocket and I slept under Headless Diver.
Last time I took the Light photograph, I took a picture of a reflection of a streetlamp. It wasn't a great photo, but I was running out of ideas. This time, I wanted to play with soft light, with light that I associated with good memories. So, glowing stars. However, I wanted to do something more three-dimensional than simply tacking them to the walls.
Fishing line. I bought a reel of it and Chibi lent me some white sticky tack. I started this project off using tape to stick the lines to the ceiling, but that's not feasible. Not only does it blast through tape, but tape is a pain in the butt to remove from walls. Sticky tack is better. However, I couldn't find white sticky tack at any of the stores I tried. Walmart had blue sticky tack, but that stuff leaves stains on walls (I know this from experience). I did use tape to stick the fishing line to the stars themselves since I didn't want dark spots on the stars when they glowed- sticky tack would have done this.
I cut the fishing line in all sorts of lengths and we started at the end of the hallway. After hanging about fifteen stars, I came to the realization that:
a) covering the entire hallway with stars was overkill and too much work
b) by doing this at the end of the hallway, I was going to be in the way of anybody trying to get into either of the bedrooms or the bathroom
c) I wasn't going to finish that evening.
So, I took down the stars at the end of the hallway and Chibi helped me put them farther down, nearer to the light. In the end, that was a more ideal situation. The next day, I realized that my hallway, while dark at night, would never be pitch-black. I needed to cover the walls (it was too late to do the ceiling since we'd already hung more stars up than would be feasible to take down again). I put "Black" on my shopping list.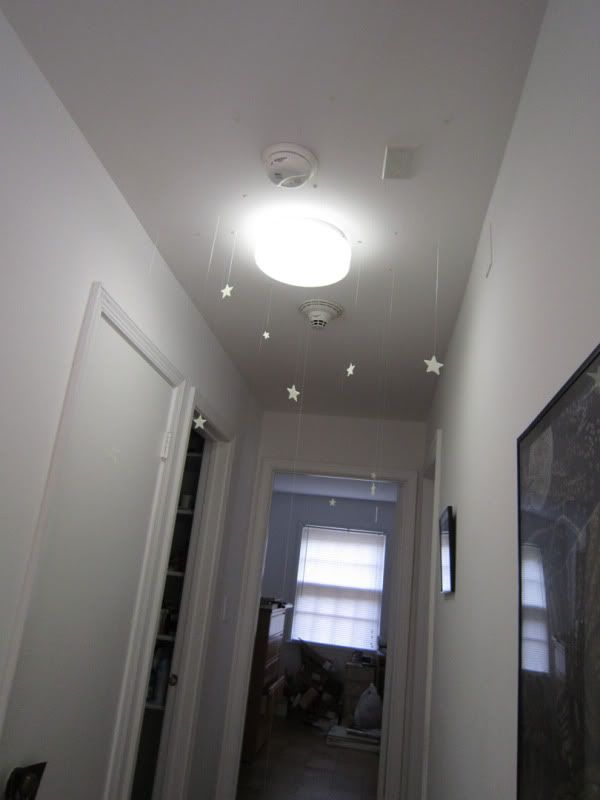 I bought garbage bags. The best thing would have been construction paper (too expensive, not as easy to reuse afterwards) or butcher paper (not sure where to get that, even if I had a use for it afterward). However, the sheen of the garbage bags looked interesting enough when the stars shone- it reflected them and gave a sense of a larger space than what we had.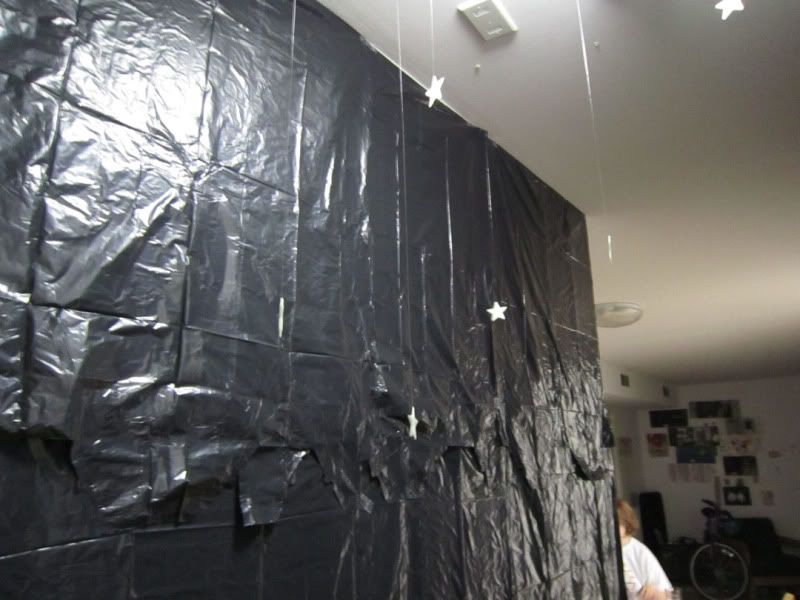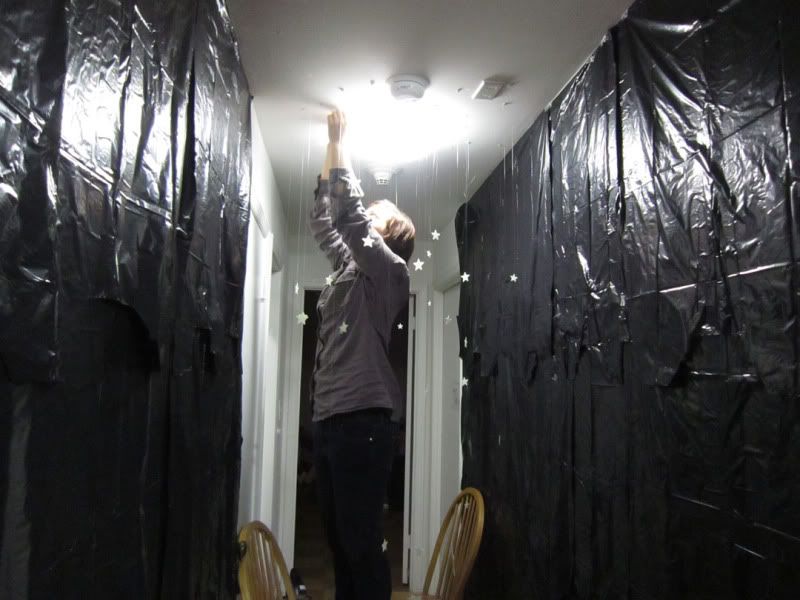 I had to figure out how to maximize the darkness. WELL… why not a cul-de-sac of black? We taped the garbage bags along the walls next to the stars, then taped them to the ceiling in an arc behind them. In hindsight, this should have been the FIRST step. Taping things to the walls without accidentally yanking down the stars was a pain in the butt. Mauve helped me out considerably, and we got the garbage bags up. We had enough to put another flap of black in front of the hallway to further minimize the light. We put up the rest of the stars (Twitterless Boy pitched in as well- I have such a great support system! Three helpers?!? Who could ask for more?) and then pulled in two lamps to shine on them in addition to the hall light.
After the stars were charged, I stuck Mauve in there, but she didn't show up at all in the darkness. I didn't want that- I wanted a subject. Originally, I had hoped that the light from the stars would play on her skin, but no dice. How could I get my subject to glow like the stars? Well, I had some glow sticks left over from junior year. I broke them out and made her bracelets and a halo. It showed up, but I think I can do better.
I also taped stars to Chibi, but she just blended in with the rest of the stars.
I'm now on a quest for glowing makeup or paint. I might get some old thrift store clothes and painting them with glowing paint, along with a mask. It doesn't have to be long-lasting or very strong, but I want to redo the show with something less subtle.
As far as other shots: I've got some sketches ready for envy, mineral, creation, crime and punishment, and a couple others.
I'll post another update as soon as I get more things ready!